Co&Co is very proud to have developed the first 2-in-1 balance bike made of steel. Like the Trybike Wood the Trybike Steel is an adjustable balance bike that can be converted from a tricycle into a bicycle. With the same benefits as the Trybike Wood, learning to walk and ride made easy.
The low tricycle offers young children lots of support to start their walking and riding skills.
Ages: Starting as early as 15 months up to approx. 2.5 years
Easily convert the low tricycle into a low bicycle. At this point the next stage of riding starts, learning how to balance.
Ages: Approx. 2 years up to around 6 years
Trybike steel comes in 4 colours: matt black, silver metallic and the Vintage Edition in misty green and ruby red. Every Trybike Steel comes with 2 sheets of stickers to give the bike your own personal look.

We won the Baby Innovation Award 2018 with our new Trybike Steel Vintage.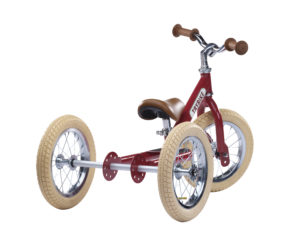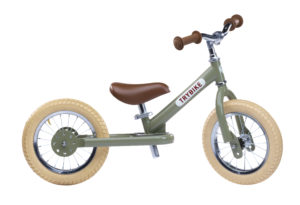 General Information:
Ages:
from 15 months up to 6 years
Seat height: adjustable from 30 cm to 45 cm
Weight: 6.3 kg as a tricycle
Brakes: feet (handbrakes don't work at these ages)
Wheels: 12-inch spoked steel wheels with nylon bushings,sealed smooth cartridge ball bearings and extra wide rubber inflatable tyres
Steering limiter: no safety limiter for more manoeuvrability in threewheelmode
Colours: matt black, silver metallic and the Vintage Edition in ruby red and misty green
Smart features:
* silver metallic with brown seat and grips
* each bike comes with stickers sheets with loads of designs to choose from
* unique small turning radius
* quick-release seat fastener
* easy to assemble and to convert
* unique control disk for the back wheel to ensure perfect wheel positioning
* 2 options for height of the front wheel * unique footrest to learn even better balancing
Warranty: 2 years
Safety standards: complies with CE EN-71 safety standard
Trybike tricycle